Retreat for Systemic Heavyweights in Finland
Monday, Jun 5, 2023
– Sunday, Jun 11, 2023
Systemic Retreat – Lapland, Finland

A lot is asked of us. We invest heavily in re-enacting the patterns in the systems from which we emerge. Time after time we are brave enough to look everything in the eye, say everything. Risking our own affiliation. We make our bodies available to allow information and energy to flow through.
Selfcare is not a luxury, but a necessity. Especially with the intense and never-ending questions from our customers. Recognizable? Then this retreat is meant for you.
This is learning by living it, in a small community that is inviting spacious and generative.
We will do this within the flow of life in an effortless playful and meaningful way so we expand our ways of knowing and listening to what is being called for. With this awareness we can make wise choices in leading ourselves, our families, our businesses and in the world.

What to Expect on Your Systemic Retreat
| | | | |
| --- | --- | --- | --- |
| | | | |
| stay | calibrate | rhythms | activities |
| We will be staying in 2 luxury lodges close to the village Rovaniemi, near the Arctic Circle. Right on a lake to watch, swim in or row on. You share a room with one of your travel companions. There is a chef who will prepare healthy, wholesome meals for us. | All activities are meant to connect with yourself, to cleanse and restore through nature. In contact with the earth. We spend a lot of time outside. The mornings provide space for stillness. In the afternoon we go out. At night we swim, light the fire and we follow what is there. | In daily life we follow the rhythm of our diary. Our clients know exactly how long something can take. At this retreat we follow the rhythm of life itself. Without wanting to influence or manipulate it. Maybe we will even follow the rhythm of earth itself. | Don't expect a closed program. Everything breaths, this retreat too. We have invited a local poet, fruit and herbs forager, shaman and poet to spend the afternoon with us. Connected to ourselves, these people and the moment, we create what is possible. |
Practicalities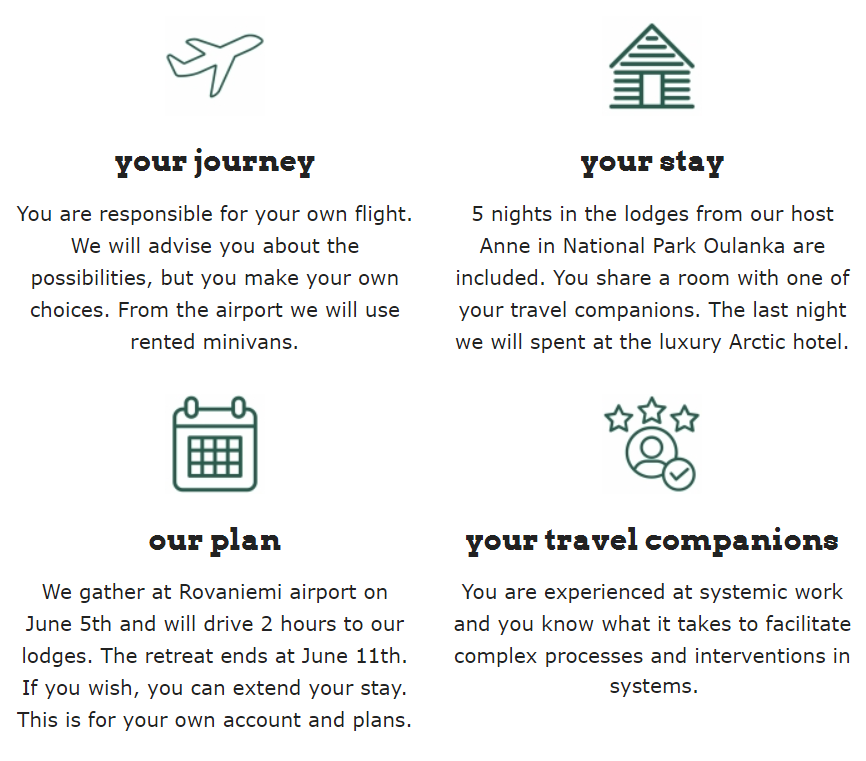 The Origin of This Retreat


A pearl in the wilderness of Lapland. The two lodges are adjacent to the beautiful Oulanka National Park, the most beautiful National Park of Finland. From the lodge, you can take great walks along (among others) various rapids.
Each house is suited for six people and has a fireplace and a electrical sauna (in the bathroom). By the lake you will find a wood-fired sauna. The spacious living room has a view over the lake. There is a glass terrace where you can enjoy a sunny breakfast.
Host Anne provides 2 towels per person, ready-made beds at arrival and plenty of firewood. A chef provides wholesome meals.
Secure your spot – Register your interest below!
Following your interest registration, you will receive an email confirmation with pricing and your payment options.
Please note that spots are secured, once full payment has been received.
---
Event Location
Lapland, Finland