Moving Questions Training Series | Applying Systemic Work: Through Questions
Tuesday, Sep 22, 2020
– Tuesday, Oct 20, 2020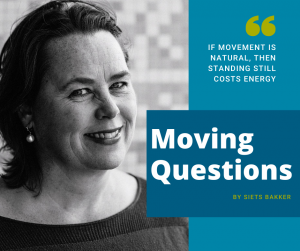 There's a beautiful and easy way of applying systemic work: through questions.
Nowadays everything is connected. The importance of knowledge about how things are connected and how you can make use of it, is becoming increasingly more important. You can access this information by putting your systemic brain at work, by using Moving Questions!
Sarah Cornally is delighted to welcome Siets Bakker from The Netherlands, who has developed this specific way of using questions.
About Moving Questions online training series
Siets Bakker's first training in Australia in December 2019 was a huge success. The questions open up a whole new way of thinking and working. Now, at the invitation of Sarah, Siets will be hosting a series of six online sessions in which you can learn how to get access to systemic information through asking questions.
The series consists of three modules, each in two parts:
Module 1: questions as a tool – Pre-Recording Available
Siets will provide you with different combinations of Moving Questions you can apply to your business setting. The questions will bring you to different layers and you'll easily discover how things got stuck and where movement can come from. Module 1 sessions are available as a recording.
Module 2: questions as a method – Sept 22 & Sept 29 1pm-3pm
Create your own Moving Questions by learning the structure and logic behind the questions. You'll benefit from this logic in more areas than just the questions just ask: knowing how use questions as a method will also have a huge impact on how you listen to the answers and what people are telling you. Module 2 will be offered via Zoom on September 22nd and September 29th.
Module 3: questions as a way of thinking – Oct 13 & Oct 20 1pm-3pm
When you know the thinking behind Moving Questions, you'll start listening differently. You'll recognise how different systems respond and how to distinguish between problems and symptoms. This will make you more effective in your response. That's how you become effortless successful. Module 3 will be offered via Zoom on October 13th and October 20th.
At the end of each first part of the training, you'll get an assignment for the next week. This assignment is aimed at applying the knowledge and tools. Your experiences are needed at the beginning of the second part of each module.
Watch this video to learn more from Siets Bakker about how she applies systemic work through Moving Questions.
Benefits of Moving Questions
You will learn how to apply systemic knowledge in the most practical way: by asking questions. You get a bunch of ready-made questions you can use in any situation.
After module 2 your access to information will multiply because you know how to construct these questions yourself, whether you ask them out loud or use them in your thinking process.
Module 3 brings you even beyond questions. You will gain insights about how you can create connections through which life will flow by itself. This brings effortless success.
Subscribe Now – Complete Details Below!
For your flexibility, you can either subscribe to one or two modules or to the complete series. All training modules are delivered via Zoom and will be recorded and accessible exclusively to participants for modules subscribed.
When you subscribe to attend the complete series (Modules 1, 2 & 3), you'll receive a take-home version of all 50 Moving Questions so you can be effortless in applying systemic work.
Everyone who subscribes will receive free access to the Moving Questions app (we'll send you an email with the app download links).
PLACES ARE LIMITED – Don't delay, subscribe now to secure your place at this sought after training series.
LIMITED TIME OFFER – Coaching Support!
Both Sarah and Siets are delighted to offer 30 minute individual coaching sessions at a special rate of $175 + GST to those that subscribe to any of the Moving Questions modules or the complete series. To book Sarah as a coach, click here or to book Siets as a coach, click here. Remember to mention 'Moving Questions Coaching Offer' in your email.
About Siets Bakker
Siets Bakker is an experienced trainer. Her trainings are enriched with over 20 years of experience as consultant and manager. She has guided numerous executive boards and management teams and is specialized change issues coming with reorganizations and mergers. She is a forerunner in the field of applied systemic work. Siets is trained to facilitate family and organizational constellations but is much more interested in finding practical ways to apply systemic knowledge to everyday life. She is the author of 'Unlocking systemic wisdom' and 'Moving Questions'. Both books help the reader to apply systemic knowledge in everyday life. As a trainer Siets is inviting you to participate, experiment and apply the knowledge and tools on the spot. She really supports you to feel confident and brave. Siets is living in The Netherlands with her husband and their three children. More about Siets on www.sietsbakker.com
Event Fees
3 Modules Series ($ + GST)
AUD 480.00
Module Two ($ + GST)
AUD 160.00
Module Three ($ + GST)
AUD 160.00
Module One Recording ($ + GST)
AUD 160.00